Stock to Flow Ratio
Die Stock to Flow Ratio beschreibt die Seltenheit eines Gutes. Sie lässt sich auch auf Bitcoin anwenden.
Das Stock-to-Flow-Verhältnis ist ein Indikator, den man gewöhnlich für die Bewertung von Rohstoffen wie Gold anwendet. Dennoch kann man ihn auf seine digitale Entsprechung anwenden: Auch auf den Bitcoin-Kurs lässt sich das Modell übertragen.
Der Stock und der Flow
Der zugrundeliegende Wert ist zum einen die verfügbare Menge eines Assets, also alle Einheiten (in unserem Falle BTC beziehungsweise Satoshis) einer Währung, die auf der Blockchain ihr dezentrales Dasein fristen. Kurz gesagt: der Stock.
Der Flow ist die Menge an Bitcoin, die jährlich zu diesem Stock hinzukommt. Das Verhältnis der beiden Werte Stock und Flow beschreibt schließlich den Zeitraum, den es bei der aktuellen Geschwindigkeit insgesamt benötigen würde, bis der Gesamtbestand erreicht ist.
Definition: Stock to Flow Verhältnis
Definition: Das Stock-to-Flow-Verhältnis beschreibt die Knappheit eines Assets – je höher das Stock-to-Flow-Verhältnis, desto seltener das Gut.
Die maximale Menge an BTC ist per Protokoll festgelegt – das Geldsystem ist deflationär konzipiert. Daher wird das rare Gut in Analogie zum bekanntesten aller Edelmetalle auch als "digitales Gold" bezeichnet. Sein Stock-to-Flow-Verhältnis steigt mit der Zeit an. Aktuell "schürfen" Miner etwa 657.000 BTC pro Jahr, pro Block bekommen Miner 12,5 BTC. Momentan befinden sich 17.987.262 BTC im Umlauf, das S-t-F-Verhältnis liegt also bei knapp 27,37 Jahren.
Dieses Verhältnis wird jedoch im nächsten Jahr deutlich ansteigen, da im Mai 2020 das nächste Halving ansteht. Dabei halbiert sich die Belohnung für Miner auf 6,25 BTC pro Block. Das Verhältnis wird dann bei rund 53 Jahren liegen und sich damit stark an das von Gold (aktuell 58 Jahre) annähern. Beim übernächsten Halving wird Bitcoin einen nie dagewesenen Wert von über 100 erreichen.
S-t-F und Bitcoin-Kurs-Prognosen
Das Modell hat in der Bitcoin-Welt hohe Wellen geschlagen. Wohl nicht zuletzt aufgrund seiner bullishen Kursaussichten. Doch wie verlässlich sind die Kursaussichten?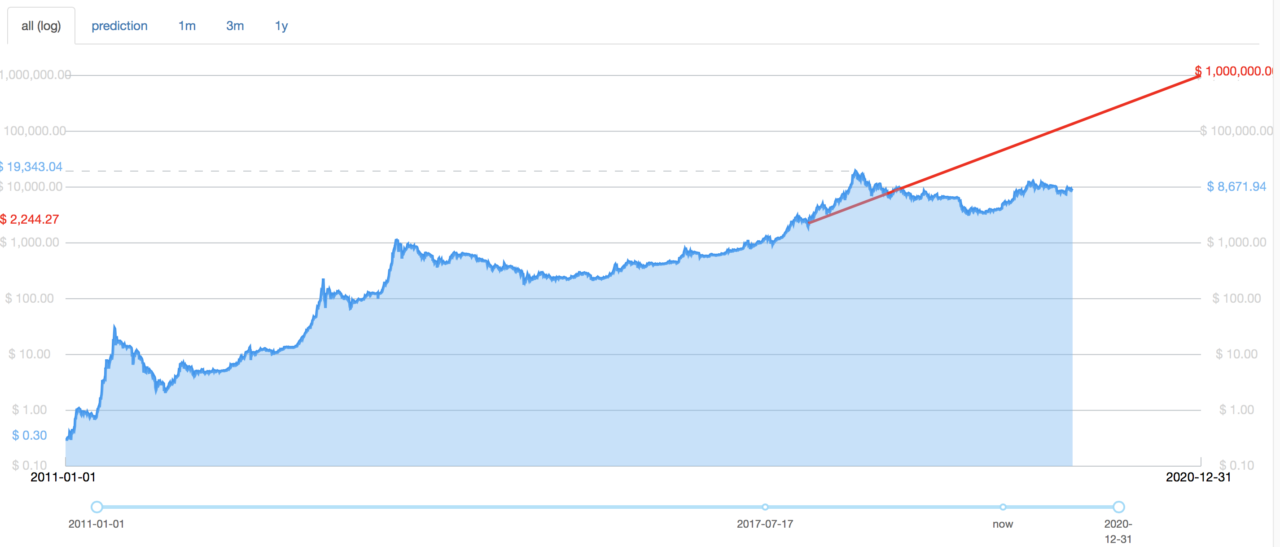 Was das S2F-Modell so besonders macht, ist seine mathematische Präzision, mit der es den Bitcoin-Kurs modelliert. Es gibt dahingehend die Hypothese, dass die Kurse monetärer Güter mit ihrer Stock-to-Flow-Rate korrelieren. Bei S2F handelt es sich um das Verhältnis zwischen bestehendem Supply und der dazukommenden Geldmenge, dem Flow. Je größer der Kapitalstock eines Gutes im Verhältnis zur Inflation, desto höher die S2F-Rate.
Bestimmtheitsmaß R2
Legt man den tatsächlichen Verlauf des Bitcoin-Kurses über den modellierten S2F-Kursverlauf, ergibt sich ein kaum zu übersehender statistischer Zusammenhang. Mathematisch ausgedrückt führt die Beziehung zu einem Bestimmtheitsmaß von 95 Prozent.
Login
Lost Your Password?