The Graph Kursentwicklung
24-Stunden
Der aktuelle The Graph-Kurs (GRT) liegt bei

1.82

$. Der The Graph-Kurs ist in den vergangenen 24 Stunden um 

1.47%

gestiegen.
Die Kursentwicklungen der Kryptowährungen werden in Euro (EUR), Schweizer Franken (CHF) und US-Dollar (USD) dargestellt. Das Zeitintervall kann manuell angepasst werden. Der dargestellte The Graph-Kursverlauf wird automatisch aktualisiert.
The Graph (GRT) kaufen und verkaufen
eToro

Börse Stuttgart DX

Powered by Börse Stuttgart

Professionelle Trading-Tools

Transparent bis ins Detail
Plus500

CFD Broker Nr. 1 mit Hebel
The Graph-Kurs Chart
Jetzt handeln:
eToro
Broker für Kryptowährungen
eToro bietet dir den Handel von unzähligen Kryptowährungen inkl. Staking, Futures, Wallets, Aktien und Social Trading.
BSDEX

Börse für Kryptowährungen
Die BSDEX ist die Krypto-Börse der Börse Stuttgart und eignet sich hervorragend für Trader und solche die es werden wollen.
Plus500
CFD Broker für Krypto mit Hebel
Plus500 ist einer der größten Krypto CFD Broker weltweit und bietet den Handel von Kryptowährungen mit Hebelprodukten an. (76.4% der CFD-Kleinanlegerkonten verlieren Geld)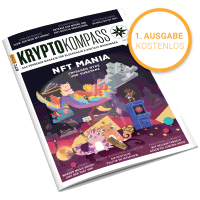 NFT Mania: Lohnt sich ein Investment?
NFT Zwischen Hype und Substanz
Erfahre mehr im führenden Magazin für Blockchain und digitale Währungen (Print und Digital)
☑ 1. Ausgabe kostenlos
☑ Jeden Monat über 70 Seiten Krypto-Insights
☑ Keine Investmentchancen mehr verpassen
☑ Portofrei direkt nach Hause
Zum Kryptokompass Magazin
The Graph Statistiken
Allzeithoch Datum
12.02.2021
Prozent vom Allzeithoch
64.08 %
Marktkapitalisierung
2,232,512,895
$
Handelbare Coins
1,224,999,438 GRT
Maximaler Supply
10,000,000,000
Über The Graph
Die Marktkapitalisierung liegt bei 2,232,512,895 $ wodurch The Graph aktuell den 59. Platz im Ranking nach Marktkapitalisierung belegt.
Der aktuelle GRT/EUR GRT/USD Wechselkurs mit ✓ Live Chart ✓ Kursrechner ✓ News ✓ Historie. Alle 2 Sekunden aktualisiert ► Zum aktuellen The Graph-Kurs
Aktuelle News zu The Graph
Date
Open
Close
High
Low
Volumen
The Graph FAQ
Ein The Graph ist im Moment

1.82

$

US-Dollar wert. In den letzten 24-Stunden ist der The Graph-Kurs um

1.47%

gestiegen.

Das Rekordhoch von The Graph ist aktuell

2.84

$

US-Dollar. Diesen Wert hat The Graph am 12.02.2021 erreicht.

Aktuell befinden sich 1,224,999,438 GRT The Graph im Umlauf. Es wird maximal 10,000,000,000 GRT geben.

Es gibt maximal 10,000,000,000 GRT.